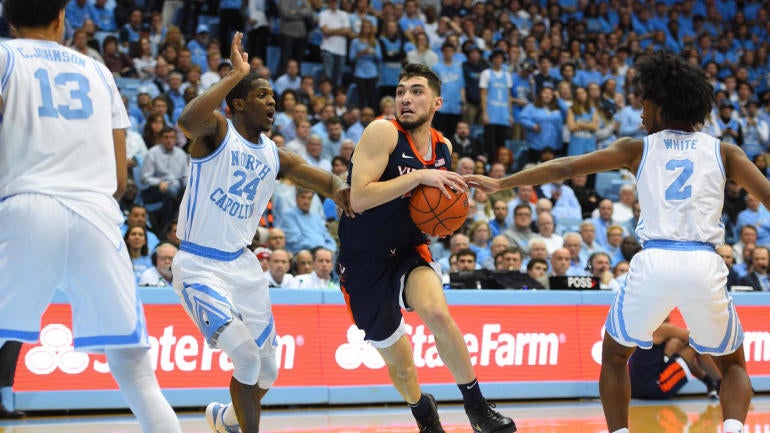 CHAPEL HILL, N.C. — If Virginia wants to keep itself on the No. 1 line for seeding in the NCAA Tournament, it needs to win on the road against a national title contender.
That's the opinion of CBS Sports Bracketology expert Jerry Palm, who said as much Monday afternoon on CBS Sports HQ. And he's almost certainly right. Virginia's got a strong resume, but dropping back-to-back games vs. Duke and UNC would bump the Wahoos to a No. 2 seed. That's not the worst thing in the world, but in a a pack of deep contenders for No. 1 seeds at this point, winning would do a lot to keep UVA near the top of the metrics and bracket forecasts.
Fortunately for UVA, it's 36-29 in its favor at the half. The Cavaliers withstood six made 3-pointers from UNC and had the lead through much of the first 20 minutes. UVA was able to offset UNC by making six of its own 3-pointers.
UNC has managed to limit its turnovers to five. It will probably need to duplicate that in the second half — and force Virginia into many more turnovers — to have a shot at coming back and winning at home. We'll continue to update in the blog below and have a game story and a column from Chapel Hill later tonight.
If you are having trouble seeing the updates, please click here.