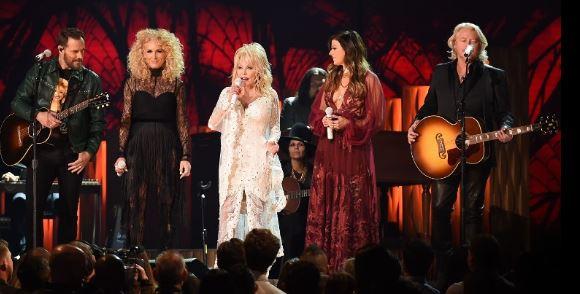 The 2019 Grammy Awards kicked off with a 10-minute all-star tribute to Dolly Parton, but one performer was criticized by some on social media for appearing to try and upstage the country music legend: Katy Perry.
Perry, decked out in lilac fringe with matching boots and cowboy hat, and country singer Kacey Musgraves began the tribute with a rendition of Parton's 1977 "Here You Come Again," when Parton walked on stage to join them.
The three singers traded lines from the song, but Perry belted out a few notes that seemed just outside her range and came off "pitchy," as was described by some. Social media users weighed in, criticizing Perry for ruining the performance.
"I've seen war. I've seen violence. But I've never witnessed anything close to the barbaric murder Katy Perry just committed on @DollyParton," wrote one Twitter user.
Others questioned why Perry, a pop singer, was selected to accompany country musicians for a tribute to Parton. After the first song, the tribute carried on relatively unscathed with a medley of Parton's other songs performed by Miley Cyrus, Maren Morris, and Little Big Town.
DOLLY PARTON SPEAKS OUT ON BROTHER FLOYD'S DEATH: 'HE LIVED A SHORT LIFE OF LOVE AND BEAUTIFUL SONGS'
The musical celebration of Parton's achievements and philanthropic work marked the first country artist to be saluted in tribute's 29-year history.
The tribute was not the first Parton had performed with Perry on stage. The two previously sang together during the 2016 American Country Music Awards.